Olé Regional Select – Summer 2019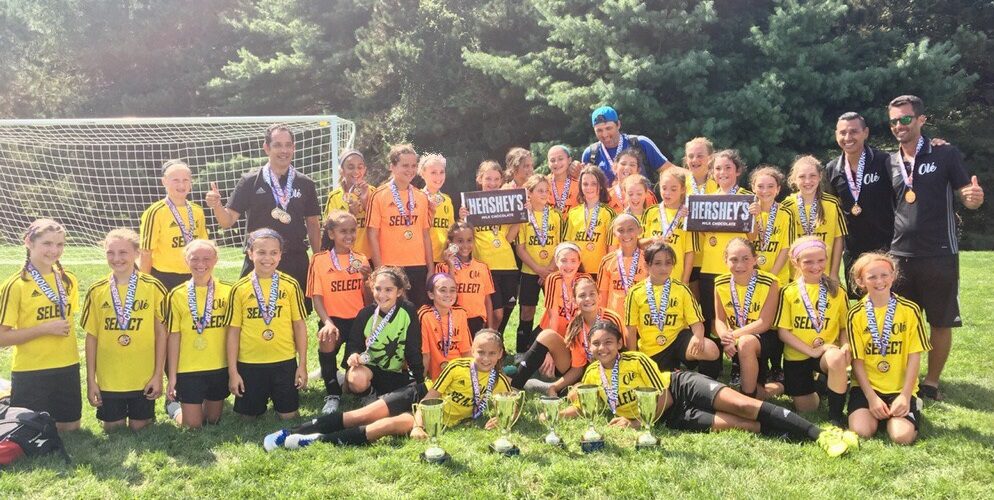 The wait is over! Join us for another great Summer season of quality soccer, family time, and fun! 
Many people, particularly children, consider the summer to be their favorite season for many reasons; school vacation, trips, and especially the warm weather for endless fun. Despite of what the reason really is, Summer is the perfect atmosphere to be out and engage in outdoor activities, particularly when it comes to developing and improving soccer skills!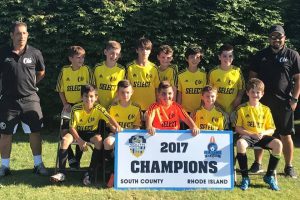 As we start getting ready for our 4th Summer season, the goal is to make the OLÉ REGIONAL SELECT Program even better this year. At the same time, we will continue to aim at promoting what keeps the families and players coming back every year: 1. Great training/coaching, 2. Strong competition, 3. Summer fun!
Ole Summer Training Programs' Mission:
"To promote an appropriate and challenging training environment suitable to advanced level players so they can develop at their own rate and ultimately reach their highest potential"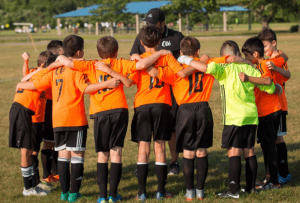 During the off season, our goal is to guarantee the quality of training and playing that will make a difference for every youth player and provide continuity to their development. In addition to the experienced and nationally certified coaching staff, Ole's player development curriculum will certainly reach each young player despite of gender and/or gender by providing a higher level of individual decision-making and technical skills/ball mastery. We will also focus on groups going through "transitions" in playing level or format as we move into the 2019/20 Season – for example:
U8 (2012/11): Travel/Premier Preparatory training)
U10 (2009): transition from 7v7 to 9v9
U12 (2007): transition from 9v9 to 11v11
U14 (8th graders): High School Preparatory Training
High School Players (2004 – 2001): High School Tryouts & Pre-Season Preparatory Training 
Ole's off season training programs have been a great success and it keeps on getting better. The proof is in the families who keep coming back year after year, as they have seen what our program has done for their children, on and off the field.
---
SUMMER 2019 OVERVIEW
Boys & Girls; U8 through High School
8 Weeks of training (June 17 – August 11)
2x 1.5 hour weekly training (16 training sessions)
1x Week Goalkeeper Training included
Practice Schedule/Location: see below table for complete details 
2 Competitive out-of-state Tournaments (please note Age Groups per tournament):
Tournaments for U8 (players born 2011 & 2012 only)

#1: GOAL4RAMS, RI – July 27, 2019 (1 day tournament)

Field Locations: Ninigret Park in Charlestown, RI
Lodging: no logding required as this is a 1-day tournament

#2: Hershey Cup, Hershey, PA (Aug 10-11, 2019) 

Hershey Tournament VIDEO
Field Locations: TBA
Lodging & Attractions: Click here
Medical Waiver: n/a

Tournaments for U9 through High School (players born 2010 – 2001)

 #1: Seaside Classic, RI (July 13-14, 2019)

Field Locations: Click here
Lodging & Attractions: Click here
Medical Waiver (mandatory): Click here
** NOTE THAT U8s (2011/12) DO NOT PLAY AT SEASIDE CLASSIC

#2: Hershey Cup, Hershey, PA (Aug 10-11, 2019) 

Hershey Tournament VIDEO
Field Locations: TBA
Lodging & Attractions: Click here
Medical Waiver: n/a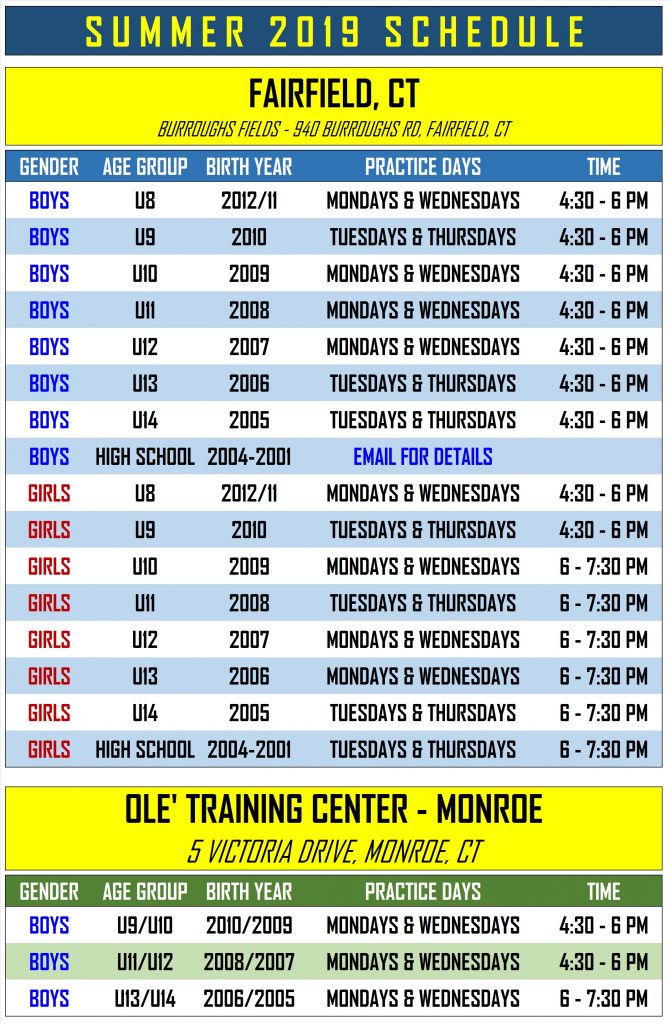 FREQUENTLY ASKED QUESTIONS
My son/daughter plays for a Travel/Premier team, can he/she still join the OLE REGIONAL SELECT ?
Ole is a Soccer Coaching/Training provider; NOT a CLUB.
Ole provides Coaching Services and supplemental in season and off season training to athletes of different Clubs/towns.
The Ole Regional Select program does NOT interfere with ANY OTHER Travel or Premier Club participation;

NO PASSES REQUIRED – we will gladly clarify any questions pertaining to this subject

. 
Each Ole program is designed to create a challenging environment where players can train and develop at their own rate and ultimately reach the

ir highest potential; therefore, if your son/daughter is NEW to the SELECT program, he/she must go through a technical assessment to ensure SELECT is the right program for him/her or if we should recommend a different training option. 

To schedule a Technical assessment, please contact OleRegionalSelect@gmail.com

and provide: Player's name, birth year, currently Club & Team 
What if my kid does not make the SELECT team?
If a player does not make the OLE SELECT team, he/she will be recommended to enroll at the OLE ELITES Developmental program.
At the OLE ELITES program, we monitor the progression of every player so we can determine if at one point, he or she can be promoted to SELECT.
The OLE ELITES Developmental Program is "open registration".
Is there uniform cost for the Ole SELECT program?
Yes, the cost is approximately $80 for the full kit, which will be kept for the following seasons
Complete kit: Training Shirt + 2 Jerseys (home/away) + Shorts + 1 pair of socks
Order directly with Soccer & Rugby. Please Click Here
Who are the OLE SELECT coaches?
Here is a layout of the 2018 Summer Ole Regional Select Coaching Staff:
Rodrigo Nunes
Danilo Martins
Rafael Fava
Gustavo Reaes
Felipe Mourao
Geovanny Rojas
Andres Georgis
Leonardo Germianni

What is the cost of the program?
$495* if registered by March 15, 2019 ($50 off)
$545* after March 15, 2019
* plus applicable taxes; it includes 16 training sessions and 2 Tournaments – payment plans available.
** Cost of uniform kit is extra (estimated $80 per kit = 1 Training Shirt + 2 Jerseys (home/away) + Shorts + 1 pair of socks)
*** Ole Soccer is not responsible for tournament transportation or lodging fees.
For specific questions, please email OleRegionalSelect@gmail.com or call 203-873-0309
---