Ole Developmental Academy
Ole Development Academy
Advanced Development Training
The Ole Development Academy program is an accelerated progression of our Ole Stars program. Talented Boys & Girls can now train and get ready for Travel and Premier Soccer. Players are exposed to a focused and challenging training environment on both technical and tactical aspects.
Ole Development Academy teams will play in tournaments, leagues and friendly games. Further key program benefits include:
Coaching focus on long-term player development
Year-round training
Club training environment
Friendly games, leagues & tournaments with other Academy level teams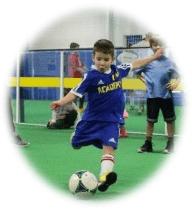 How to join Ole Development Academy:
All players will have the opportunity to qualify for this selective year-round training program. ODA is open to players who are currently part of the Ole Stars programs (by invitation), as well as new outside players (by tryout).
---
Frequently Asked Questions:
What if a player does not make the ODA cut-off?
Spots are limited in the ODA program and any player that does not make either the "Developmental" or "Advanced" training groups can still participate in the Ole Stars programs and continue to play and have fun.