Futsal Winter 2020/21
Welcome to OLE' FUTSAL ACADEMY! OFA runs year round and offers developmental and competitive training platforms to different age groups and levels. OFA's curriculum will allow players of different ages and abilities to learn more about this style of soccer that has become a mandatory curriculum segment in the top professional soccer academies around the world and in the USA.
FUTSAL is a fast-paced version of soccer that is popular across Latin America and Europe. Renowned for improving speed of play, ball mastery, decision making, improvisation, and creativity, FUTSAL will give players all the elements to compete at a different level.
JOIN ONE OF OUR FUTSAL PROGRAMS
REGIONAL TEAMS (Invitation only)
15 Training Sessions starting Saturday Dec 5, 2020
2 Competitive Events (Tournaments – separate cost)
Contact [email protected] to schedule an evaluation.
Location: Ole' United Futsal – 176 Linwood Ave, Fairfield, CT
SELECT TEAMS (Evaluation required)
15 Training Sessions starting Monday Nov 30, 2020
2 Competitive Events (Tournaments – separate cost)
NEW PLAYERS: contact [email protected] to schedule an evaluation.
CURRENT SELECT PLAYERS: all current SELECT players were sent an email with the registration link, but in case you have not received it, please contact [email protected] to request a registration link or contact our office (203) 873-0309.
Location: Ole' United Futsal – 176 Linwood Ave, Fairfield, CT
FUTSAL CLINICS (open registration)
Sundays; starting December 6th , 2020 (Training only; no tournaments)
15 Training sessions
Location: Ole' United Futsal – 176 Linwood Ave, Fairfield, CT
Boys
U8 (born in 2013/14); 10:15 – 11:15 AM – REGISTER HERE
U9 & U10 (born in 2012/11); 11:30 –  12:30 PM – REGISTER HERE
Girls
U8 (born in 2013/14); 10:15 to 11:15 AM – REGISTER HERE
U9 & U10 (born in 2012/11); 12:45 –  1:45 PM – REGISTER HERE
.
For inquiries or to schedule an evaluation, please email: [email protected]       
.
COVID-19 PROTOCOL
Give the current circumstances, Ole' has taken extra precautionary and safety measures to ensure our customers' health and safety.
Daily Facility cleaning and disinfecting
UV Lights – Air purifying units
Hand Sanitizing stations
No spectators (drop off and pick up only)
Designated sitting area (maintaining 6ft apart at arrival and during breaks)
Face Covering is MANDATORY for Players and Staff at all times, including during training session
Player equipment & gear:

bring only water
wear Futsal shoes and shinguards

No Participation if Experiencing COVID-19 Symptoms

Any coach, player, parent, referee or spectator who is sick, has a persistent cough, is running a temperature or is displaying any symptoms suggesting that the individual may be ill, (from any contagious malady, including cold, flu, or suspected coronavirus) will be prohibited from attending training or games.
Coaches and players (assisted by parents/guardians) must self-assess their condition and attest when arriving at the location that they are not experiencing these symptoms. A self-assessment tool is attached which you can provide for players and coaches to assess their symptoms. https://www.mayoclinic.org/covid-19-self-assessment-tool
Any adult attendee who displays any of these symptoms will be required to leave. A minor who is displaying any of these symptoms should be safely isolated until an adult responsible for the minor can remove the minor.
.
Be aware … 
"Parents and players are often misled to playing indoors, in a gym, with a Futsal ball, but that, in many cases, is not necessarily Futsal. If you are not learning all the fundamentals of FUTSAL, proper techniques and tactics from a qualified/certified and experienced coaching staff who have a Futsal background, you are not benefiting from it. You are simply playing indoor soccer in a gym floor" – says, Danilo Martins, Ole Soccer Director of Coaching. Danilo adds: "you need to meet certain requirements to teach and coach Futsal – not many people in our area are qualified and certified to do it, but we are fortunate enough to have staff members who have played the game of Futsal for many years and are Futsal certified".  
Here is what Anson Dorrance had to say when asked about "positive developments at the grassroots level" in an interview for SoccerAmerica.com.
ANSON DORRANCE: In fact, I'm starting to see some kids I really like who demonstrate an opportunity: producing elite players as they go through classic American club systems while adding futsal to it.
There's an opportunity for us in the United States, because there are gymnasiums across the country in elementary schools, middle schools and high schools across the country. And we're trying to do this in North Carolina now, if we can get these kids playing futsal on a regular basis, through the winter months, and maybe even on a year-round basis — I think it will have an impact. Because I'm seeing some very special players emerge right now who are bubbling up from these wonderful environments combining the 11v11 game with futsal.
Dorrance is the nation's most successful women's college coach, who led the University of North Carolina past UCLA on Saturday to qualify the Tar Heels for the Women's College Cup for the 28th time in 37 seasons. Dorrance, who is seeking his 22nd NCAA Division I title with UNC, coached the USA to its first Women's World Cup title in 1991 and more than 60 of his Tar Heel players have played for the U.S. national team.
---
Why FUTSAL? Here is what the specialists have to say about FUTSAL.
REASONS TO PLAY FUTSAL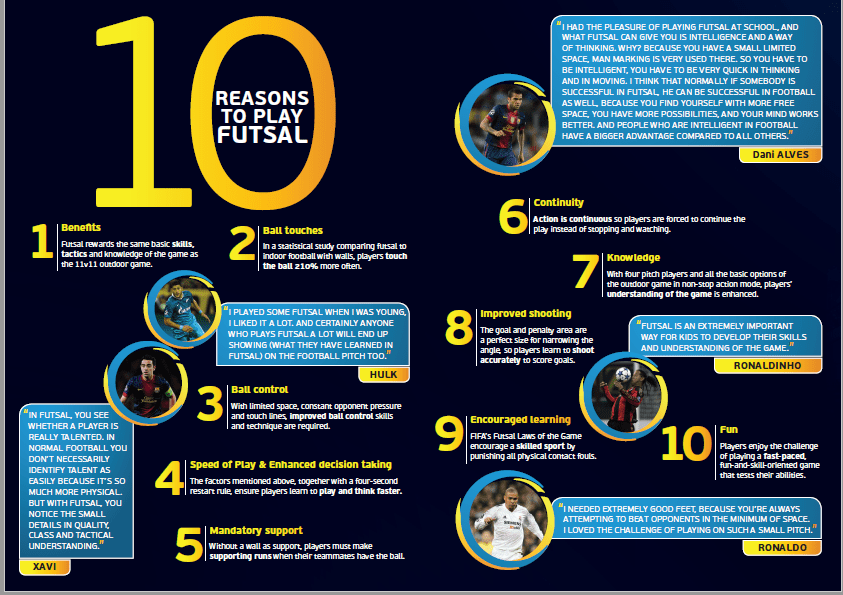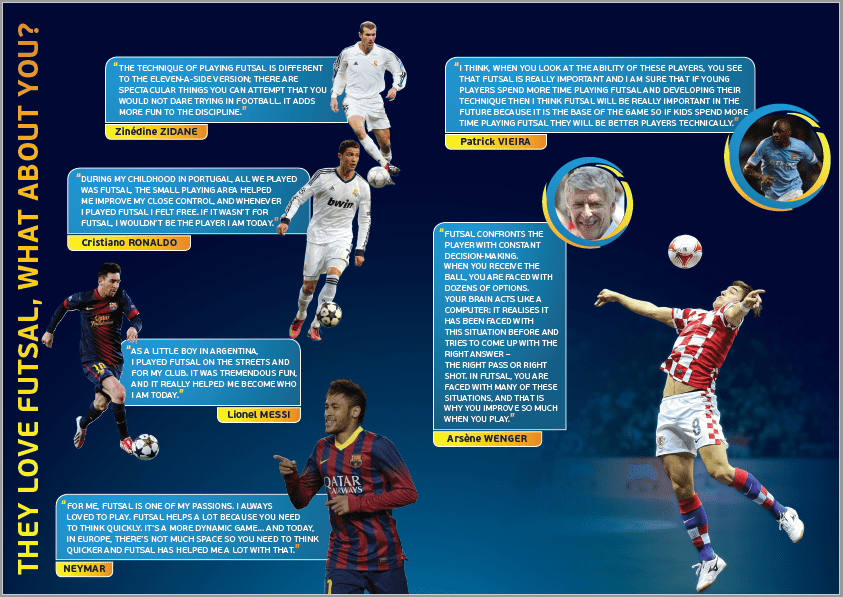 PICTURES OF OLE' FUTSAL PROGRAM
FUTSAL VIDEOS – ENJOY!
Brazilian Soccer Stars "born in FUTSAL"
FUTSAL Skills & Tricks
The best FUTSAL player of all time: Falcao (Brazil)
https://www.youtube.com/watch?v=1DssnQzZZYM
Women's FUTSAL