Olé Regional Select 2017
COUNTDOWN TO OLÉ REGIONAL SELECT – SUMMER 2017
-366
Days
-9
Hours
-43
Minutes
-16
Seconds
The wait is OVER! Join us for a great season of Soccer, Family and Fun!
Many people, particularly children, consider the summer to be their favorite season for many reasons: school vacation, trips, and especially the warm weather for endless fun. Despite of what the reason really is, Summer is the perfect atmosphere to be out and engage in outdoor activities, particularly when it comes to developing and improving soccer skills. And that is where our Olé Summer programs come in!
OLÉ REGIONAL SELECT
After a very successful first year, the goal is to make the OLÉ REGIONAL SELECT Program even better this Summer 2017. Our targets will continue to be to promote 1. Great training, 2. Strong competition, 3. Summer fun!
 "Olé will always provide the quality training we are known for; that's our core, that's what our coaching staff does best, but we can't forget it is also Summer time, so this year we are making a couple of adjustments in the logistics to make the SELECT program even better, and I'm sure our players will LOVE IT! – says Olé's Director of Coaching and Olé Select Director, Danilo Martins.
 Olé Summer Training Programs' Mission:
 "To promote an appropriate and challenging training environment suitable to all levels so players can develop at their own rate and ultimately reach their highest potential"
During the off season, our goal is to guarantee the quality of training and playing that will make a difference for every youth player and provide continuity to their development. In addition to the experienced and nationally certified coaching staff, Ole's player development curriculum will certainly reach each young player and provide a higher level of individual decision-making and technical skills/ball mastery.
Ole's off season training programs have been a great success and it keeps on getting better. The proof is in the families who keep coming back year after year, as they have seen what our program has done for their children, on and off the field.
 SUMMER 2017 SUMMARY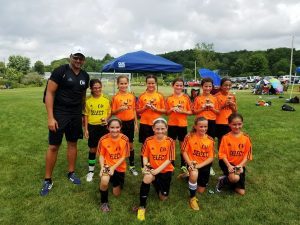 8 Weeks of training (June 19 – August 10)
2x 1.5 hour weekly training (16 training sessions)
Training Schedule: See Below
Training Locations: Burroughs Field, Fairfield and Olé Training Center, Monroe
Tournaments: 2 tournaments per age group
    SEASIDE CLASSIC – RI
    GOAL4RAMS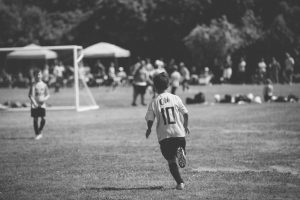 Age Group: Boys & Girls U8 (2009/10) ONLY
Date: July 29, 2017
Hotel Reservation: Click Here
Directions: Click Here
    HERSHEY CUP – PA ( yes, HERSHEY PARK! )
Age Groups: Boys & Girls U8 – High School
Date: August 12 – 13, 2017
Hotel Reservation: Click Here
Directions: Click Here
Tournament Waiver: Click Here
Park Tickets: Click Here
** Olé will reward one MVP player  from each age group (Boys and Girls) with a 1-One Day Pass at Hershey Park. This selection will be made using the following criteria at the Seaside Classic and Goal4Rams tournaments: discipline, sportsmanship, hard work, and performance.  
PRACTICE SCHEDULE: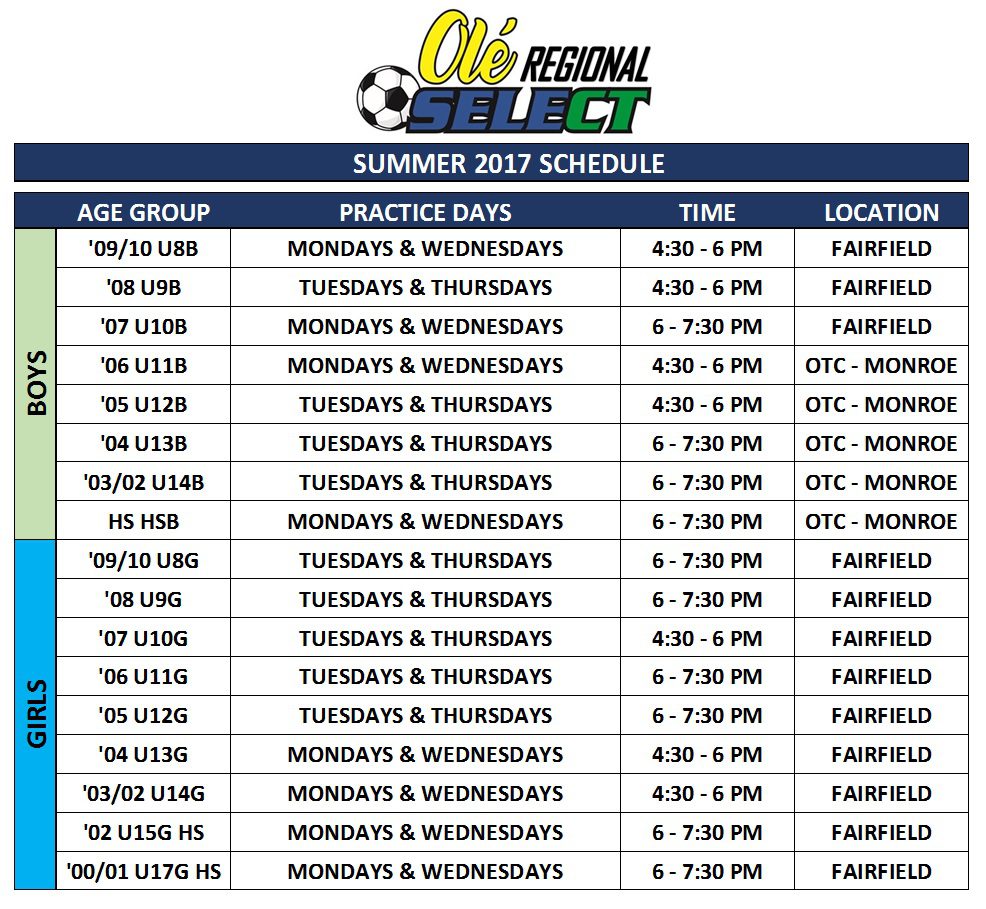 HOW TO JOIN
Olé will be holding tryouts for all age groups – complete schedule and registration links below. Players who participated in the Summer 2016 and are currently enrolled this Winter are already "pre-selected" but we recommend everyone to register – at no cost – and attend to their respective age group tryout sessions (look at it as an extra training session).
TRYOUT SCHEDULE & REGISTRATION
Ole Summer Program tryouts sessions are solely intended to define which Summer training group is suitable for each individual. THERE ARE NO CUTS!!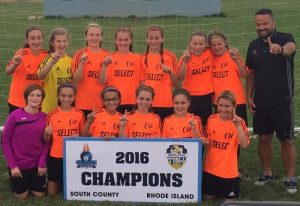 As part of a player's effective development process, appropriate placement is crucial to ensure players are developing at their own pace and according to their level.
Whether you child is the top player at his club team or needs extra training, our Ole supplemental off- season training options will certainly help and be a key component to their development. We will be able to point them in the right direction so he/she can be placed in the correct training group and receive the appropriate training and attention. That's our commitment to you, that is or commitment to your investment.
For the Summer Ole Elites Developmental – SIGN UP NOW !! Don't need to wait for tryouts… RESERVE YOUR SPOT NOW!
COACHING STAFF:
Here is a layout of the 2017 Summer Ole Regional Select Coaching Staff:
Rodrigo Nunes
Danilo Martins
Gustavo Reaes
Jadir Barbosa (JB)
Rafael Fava
Levi Villibor
Cost:
$495
– includes training & tournament entry fees; taxes not included; payment plan option available
 FREQUENTLY ASKED QUESTIONS
 My son/daughter plays for a Travel/Premier Club team, can he/she still join the OLE REGIONAL SELECT ?
Ole is a Soccer Coaching/Training provider; not a club.
Ole provides supplemental on season and off season training to athletes of different levels and from different clubs/towns.
Ole programs do NOT interfere with Travel/Premier Club participation.
Each program is designed to create a challenging environment where players can train and develop at their own rate and ultimately reach their highest potential.
What if my kid does not make the SELECT team?
If a player does not make the OLE SELECT team, he/she will automatically have a spot reserved with the OLE ELITES Developmental program. The goal is to give every player a chance to play age and level appropriate. 
What is the uniform cost for the Ole SELECT?
Cost = $95 (will be kept for the following season)
Complete kit: Training Shirt + 2 Jerseys (home/away) + Shorts + 1 pair of socks
Order directly with Soccer & Rugby. Please Click Here
Returning players that would like to purchase new gear may also get in touch directly with Soccer & Rugby directly.
IF YOU ARE NOT ABLE TO ATTEND TO THE TRYOUT DATES ABOVE AND STILL WANT TO PARTICIPATE IN THE OLÉ REGIONAL SELECT PROGRAM PLEASE CONTACT DANILO MARTINS AT 203-880-9047 OR EMAIL OLE.DOC6@GMAIL.COM
For specific questions, please contact Danilo Martins at ole.doc6@gmail.com or call 203-873-0309