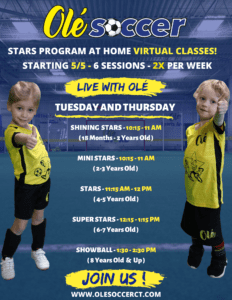 REGISTER NOW
VIRTUAL CLASSES
Shining Stars – 18 to 24 Months Old – Register Here
Ole Mini-Stars – 2 and 3 Years Old – Register Here
Ole Stars – 4 and 5 Years Old – Register Here
Super Stars – 6 and 7 Years Old – Register here
Show Ball – 8 Years Old and up – Register Here
Olé Soccer Presents:
Stars Soccer Program – @HOME Virtual Classes
Dear Client,
We will take soccer learning to the next level, with interactive sessions using Zoom screen share. We literally bring our physical location classes straight to your computer or smart device!
Through our digital classroom, children can work directly with our coach and continue their soccer development and staying active. There will also be an opportunity for our coach to assign activities to keep the fun going after class, like building your own soccer goal box, and beat-the-coach challenges.
Classes will run 30 min – 1hour (age-dependent) and will follow our normal class structure, including warmups, stretching exercises, skill intro and progression. Lessons are designed with small spaces in mind – a 5x5ft area is all you need. No equipment, no problem! Coaches suggest items to use that are safe and easily found around the house.
NEW SESSION !
Starting on May 5th our loyal customer and families will be able to join 6 sessions with our @HOME virtual classes. This will happen for the next 3 weeks, 2x per week.
Virtual Class Schedule
Tuesdays and Thursdays:
10:15-11am – Shinning Stars 18 months – 2 years = $60 for 6 sessions
10:15 -11am – Mini Stars 2-3 years = $60 for 6 sessions
11:15 – 12 – Stars 4 and 5 years = $60 for 6 sessions
12:15 – 1:15 – Super Stars 6-7 years = $80 for 6 sessions
1:30 -2:30 – Showball 8 years and up = $80 for 6 sessions
How do I join my class?
Step 1- Register through our link above
Step – 2 Download Zoom (Client for Meetings) to access your class on a computer, tablet or smartphone. No account or profile needed!
Once enrolled, you will receive a Meeting ID and a link to join the class to your provided email address.
We will look to reopen in May for our normal sessions.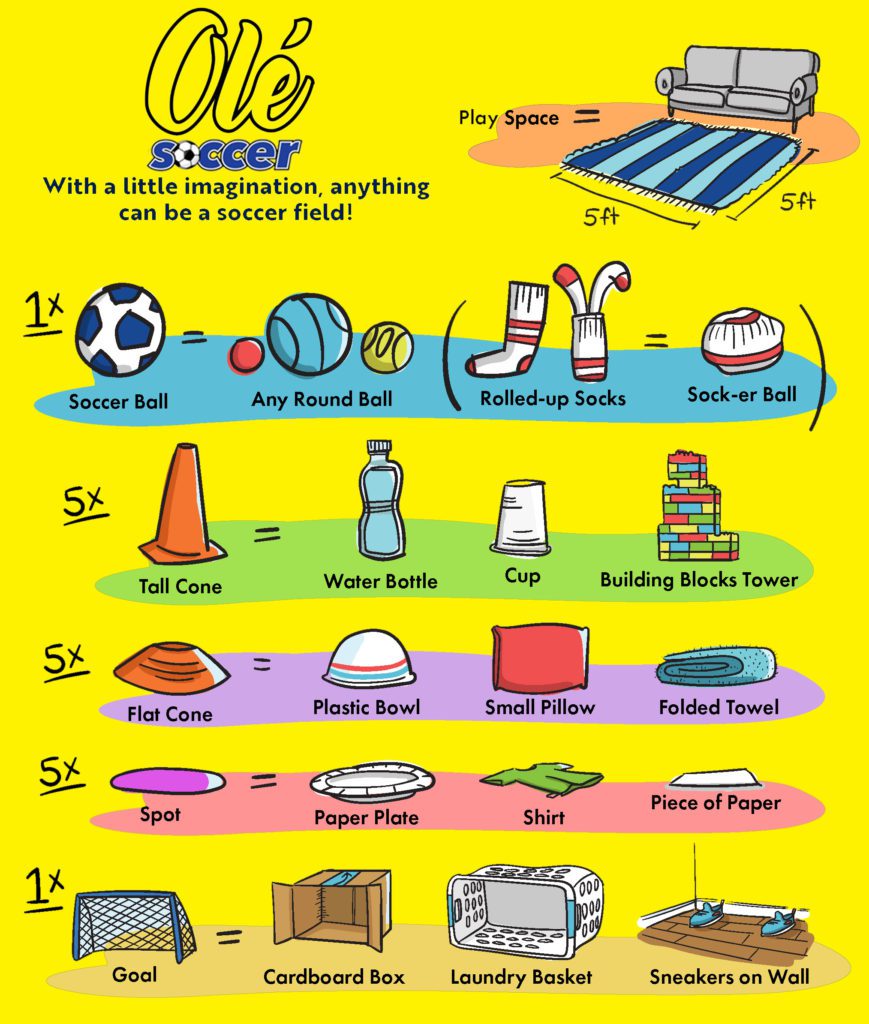 **PLEASE EMAIL olesoccernews@gmail.com FOR MORE DETAILS.